RARSfest 2022 CANCELLED

Due to again increasing concerns with the resurgence of the COVID virus, the Raleigh Amateur Radio Society (RARS) has made the difficult decision to cancel the 2022 RARSfest. We hold the safety of our many guests and volunteers as our responsibility. Availbility of a facility is questionable and it is impossible to guarantee a safe venue for an event the size of RARSfestat this time. We thank our many loyal guests, vendors, exhibitors and volunteers for their past patronage spanning nearly 50 years.

We look forward to seeing you at the

48th RARSfest on April 8, 2023 Use this contact form for RARSfest inquiries.
---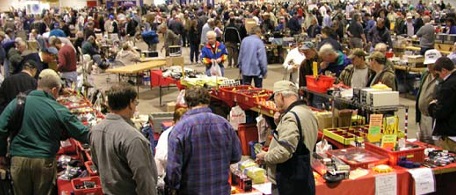 48th Annual RARSfest
Thanks for another

Terrific

RARSfest!
All 230+ Flea Market Tables SOLD OUT at the last RARSfest!
---
Did you miss the 2019 D-Star and DMR forum? Get the presentation PDF Here
---
100,000 Sq. Ft. All Indoor
Jim Graham Building
NC State Fairgrounds
1025 Blue Ridge Rd
Raleigh NC 27607
GPS: 35.7936N -78.71175W
FREE PARKING

---

Huge All Indoor Flea Market with 230+ Tables.
QSL Card checking for ARRL and CQ awards.
Satellite Communications Demonstration

Commercial dealer booths.
Walk-In License Exams.
Hands-On You-Build-It Project Table.

Door Prizes.
Meetings and Forums.
Indoor Fox Hunt.

View the latest RARSfest News You can Subscribe to RARSFest news updates via email.
(The subscribe link above sends a blank email from your email client with subject "Subscribe me to RARSFest News". Any text is ignored.)
All Contents Copyright © 1999-2020 Raleigh Amateur Radio Society, Inc. All Rights Reserved.
No electrons were harmed in the creation of these pages. This site hosted by Delta Force.

RARS · P.O. Box 17124 · Raleigh, NC 27619-7124